Dit evenement is afgelopen.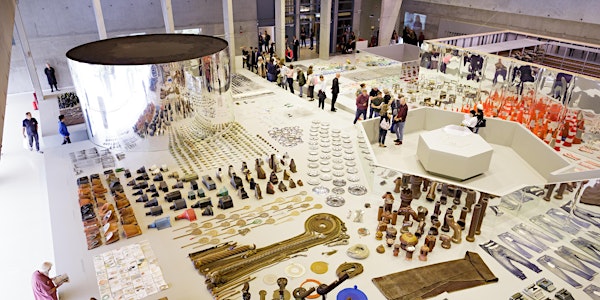 Thursday Night Live! Design Dialogues: The Agency of Things
Waar en wanneer
Locatie
Het Nieuwe Instituut Museumpark 25 3015 CB Rotterdam Netherlands
Kaart en routebeschrijving
Beschrijving
In the context of the exhibition Finders Keepers, Het Nieuwe Instituut is organizing a conversation between architect and design critic Sam Jacob and Louise Harpman addressing our obsessive and uncomfortable relationship with objects and new possibilities for design. Moderated by artist Hanna Mattes. Also an interlude by Dead Darlings that gives the audience a chance to start their own collection!

For Finders Keepers, the curators of MacGuffin magazine combined more than 5,000 items from over 40 collections into a 'Grande Parade' of everyday objects: from razor blades to jeans and from ropes to step ladders. The variety of collectors' motives and strategies and the aesthetic joy the collections express reveal the – often hidden – life of things. A wonderful world that counterbalances the fixation on innovation and commerce that dominates the design world. A world in which people are not necessarily in control and one that shows the fundamental dependence that characterizes our relationship with objects.
In a full evening's programme Sam Jacob and Louise Harpman examine our changeable relationship with the world of objects. What do things still signify in this era of material saturation? How can design kick-start social change and transcend values that are deemed fundamental, such as 'innovation' and 'authenticity'? Is it possible to reinvent institutions such as museums and academies to maintain this changeable relationship?
Sam Jacob
Sam Jacob is an architect and design critic. He is principal of Sam Jacob Studio, a collaborative architecture and design practice that makes buildings, places, objects and strategies. He is professor of Architecture at the University of Illinois at Chicago and director of the Night School at the Architectural Association. Jacob is also a contributing editor of Icon magazine and columnist for both Art Review and Dezeen. To coincide with the exhibition 'Finders Keepers', Jacob has written an essay about collections and the life of objects: Life Amongst Things.
Louise Harpman
Louise Harpman is the founder and principal of Louise Harpman PROJECTS, whose work focuses on architectural design, design research and urban design. She also teaches at New York University and is co-founder of Global Design NYU, which advances design innovation and environmentalism. Her impressive collection of coffee lids is on show in 'Finders Keepers'. Harpman: 'Cities, houses and cars are designed, but so is an object as modest as a plastic coffee lid, and all these items say something about what we, as a culture, see as progress'.
Hanna Mattes
Hanna Mattes was born in 1980 in Munich. She studied Fine Arts at Gerrit Rietveld Academy in Amsterdam and Linguistics at Freie Universität zu Berlin. Recent solo shows include Hanna Mattes: Searching for the Cold Spot, Belmacz, London (2017), Encounters, ACF –Amsterdam Centre for Photography (2013), Match #1 – Hollywood, Ein Abend in Neukölln, Gallery Team Titanic, Berlin (2012). Recent group shows include: Collectivism - Collectives and their quest for value, Foam, Amsterdam, On the Distant Horizon, BLAM, Los Angeles, InterKontinental, Belmacz, London (2016), Light / Colours, Huis Marseille – Museum for Photography, Amsterdam (2013), Kleider machen Leute, Galerie im Saalbau, Berlin (2012) and Circus TM, Belmacz Gallery, London (2014). Residency La Wayaka Current - Desert, Atakama Desert, Chile (2017). Hanna lives and works in Berlin and Amsterdam.
Dead Darlings
Dead Darlings is an anonymous art auction, founded in Amsterdam in 2005 as a platform to explore the complex triangle between artist, artwork and collector.

Tour of the archive
Before the event, you are welcome to join a free tour of the archive at 18.45 h. In the context of the Finders Keepers exhibition, curator Ellen Smit will show some exceptional collections within individual archives, such as travel sketches by architect A. Staal and photographs collected by P.J.H. Cuypers. Registration via Tickets.

Finders Keepers
Design and crafts magazine MacGuffin, curator of the exhibition Finders Keepers, reveals the universe of the collector and presents hundreds of items loaned from dozens of collections. Inspired by the Turkish writer Orhan Pamuk, who in his Modest Manifesto for a Museum argues in favour of a museum that centres on the stories of people, 'Finders Keepers' considers the stories of collectors and their relationships to the world of objects. The exhibition is open until 11 February 2018
Thursday Bite
Before the Thursday Night why not grab a bite to eat with the speakers and staff of Het Nieuwe Instituut? From 18:00 Het Nieuwe Café will serve soup with bread or a quiche with salad. Dinner vouchers are available for €7.50 up to a day before the particular Thursday Night event via the Tickets link or at the bar this evening.