Dit evenement is afgelopen.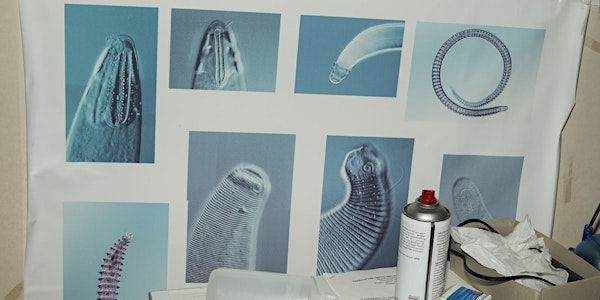 Thursday Night Live! Matter: Prospecting Ocean
Waar en wanneer
Locatie
Het Nieuwe Instituut Museumpark 25 6th Floor 3015 CB Rotterdam Netherlands
Kaart en routebeschrijving
Beleid voor refunds
Neem contact op met de organisator om een restitutie aan te vragen.
Eventbrite-kosten zijn niet restitueerbaar.
Beschrijving
The evening with Stefanie Hessler and Armin Linke and will mark the launch of a new publication Prospecting Ocean, unmasking the entanglement of industry, politics, culture and economics at the frontier of ocean excavation.
The oceans are crucial to the planet's well-being. They help regulate the global carbon cycle, support the resilience of ecosystems, and provide livelihoods for communities. The oceans as guardians of planetary health are threatened by many forces, including growing extractivist practices. Through the innovative lens of artistic research, Prospecting Ocean investigates the entanglement of industry, politics, culture, and economics at the frontier of ocean excavation. The result is a richly illustrated study that unites science and art to examine the ecological, cultural, philosophical, and aesthetic reverberations of this current threat to the oceans.
The publication Prospecting Ocean (MIT Press, 2019), written by Stefanie Hessler and including a visual essay by the photographer and filmmaker Armin Linke and a foreword by the philosopher Bruno Latour, takes as its starting point an exhibition by Linke, which was commissioned by TBA21–Academy, London, and first shown at the Institute of Marine Science (CNR-ISMAR) in Venice. Departing from topics that informed the book, the event will discuss strategies for making the invisible visible, unmasking the technologies that enable extractions from the ocean, including future seabed mining for minerals and sampling of genetic data.
The evening will be moderated by design curator Angela Rui and Anastasia Kubrak (Het Nieuwe Instituut).
Stefanie Hessler
Stefanie Hessler is a curator, writer, and director of Kunsthall Trondheim in Norway. Since 2016, she has been the curator of Thyssen-Bornemisza Art Contemporary, London, for whom she conceived among others the exhibitions 'Joan Jonas. Moving Off the Land II' at Ocean Space in Venice (2019) and 'Armin Linke. Prospecting Ocean' at the Institute of Marine Science in Venice (2018). She has also edited books such as 'Life Itself' (Moderna Museet and Koenig Books, 2016), 'Tidalectics. Imagining an Oceanic Worldview through Art and Science' (MIT Press, 2018), and authored 'Prospecting Ocean' (MIT Press, 2019).
Armin Linke
Armin Linke is a photographer and filmmaker combining a range of contemporary image processing technologies to blur the border between fiction and reality. Linke investigates the formation – so called Gestaltung - of the natural, technological and urban environment in which we are living. Armin Linke's oeuvre - photographs and films - function as tools to become aware of the different design strategies. Linke has served as a research affiliate at the MIT Visual Arts Program, guest professor at the IUAV Arts and Design University in Venice, and professor for photography at the Karlsruhe University for Arts and Design. Currently Armin Linke is guest professor at ISIA, Urbino (IT).
Pedagogies of the Sea
The event is organized in collaboration with Design Academy Eindhoven and design research class 'Pedagogies of the Sea', lead by Angela Rui and Anastasia Kubrak in MA Social Design. The course approaches the ocean from an ontological perspective, and explores how thinking with the ocean as a theoretical and research tool can foster the ability of designers to provoke awareness and social change. The lecture series is convened in collaboration with TBA21–Academy / Ocean Archive.
Matter
Matter series explores the relationship between design practice and matter. By focusing on the global cartographies of matter, from molecules to rare earth elements, the regulations of hidden material flows, as well as the capacities of matter itself to act, the series invites designers and other practitioners to imagine non-exploitative and non-human centric forms of engagements with materiality.

Thursday Bite
Before the Thursday Night you can grab a bite to eat with the speakers and staff of Het Nieuwe Instituut. At 18:00 Het Nieuwe Café will serve a light vegetarian meal. Dinner vouchers are available for € 7.70 up to a day before the particular Thursday Night event via the Tickets link.
Become a Member
Become a Member of Het Nieuwe Instituut and you'll support our mission to navigate the vast and evolving field of design. You'll also be inspired by our special program of Members' events, meeting up with other like-minded people as we invite you to reflect with us on design's changing role in technology, economics, culture and society.