Dit evenement is afgelopen.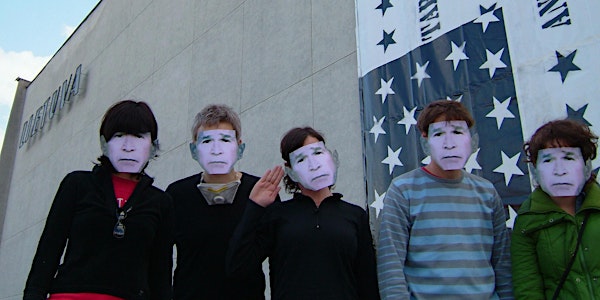 Thursday Night Live! Reading Room: The Pro-test Lab
Waar en wanneer
Locatie
Het Nieuwe Instituut Museumpark 25 3015 CB Rotterdam Netherlands
Kaart en routebeschrijving
Beschrijving
Gediminas and Nomeda Urbonas from Urbonas Studios will explore the notion of protest in the context of their interdisciplinary research, which advocates for the reclamation of public culture in the face of overwhelming privatization. Quinsy Gario will moderate this evening.

The Pro-test lab started in 2005 as a call to reclaim public space in the city of Vilnius, Lithuania—in particular, to keep the city's largest cinema, Lietuva, from being demolished. With overlapping artistic and social actions this intervention into Lithuania's post-Cold War development processes was conceived as a multi-layered, multi-year organizational structure, addressing memory, trauma and emotions attached to public space, while combining public discussions, exhibitions, a media channel, performances, an educational program, a series of petitions and even legal actions, all calling into question development policies and territorial planning.

Gediminas Urbonas recently co-edited Public Space? Lost and Found (SA+P Press; MIT Press, 2017), which brings together artists, planners, theorists and art historians in an examination of the complex interrelations between the creation and uses of public space and the roles that public art plays therein. Urbonas Studio is currently working on Zooetics, a research project that explores the potential to connect with the noetics and poetics of non-human life amidst the planetary ecological imbalance that is often called the Anthropocene.

Quinsy Gario
Quinsy Gario is a performance poet, visual artist, theatre maker and activist. He won the Hollandse Nieuwe 12 Theatermakers Prize 2011, the Issue Award 2014, the Amsterdam Fringe Festival Silver Award 2015 and was a finalist in the 2011 Dutch National Poetry Slam Championship. He is a boardmember of De Appel Arts Center, member of the pan-African artist collective State of L3 and a recurring participant of the Black Europe Body Politics biannual conference series.
Reading Room
The Reading Room is a series of evenings dedicated to the act of collective reading. It is a place to decipher and interpret the world with its countless languages and systems, including phenomena that by their ubiquity evade investigation. Led by an artist, researcher or designer, a small audience will reflect upon a concept, a text, an object or an image. The Reading Room is a space for intimate, provocative conversations. It is a place for creative confusion and sometimes even frustration, in which speakers and audience are not looking for concrete solutions but for higher resolutions. Subjects in previous Reading Rooms include exhibition, surveillance, migration, liquidity, museum, insecurity.
Thursday Bite
Before the Thursday Night you can grab a bite to eat with the speakers and staff of Het Nieuwe Instituut. At 18:30 Het Nieuwe Café will serve soup with bread or a quiche with salad. Dinner vouchers are available for € 7,50 up to a day before the particular Thursday Night event via the Tickets link or at the bar this evening.