Dit evenement is afgelopen.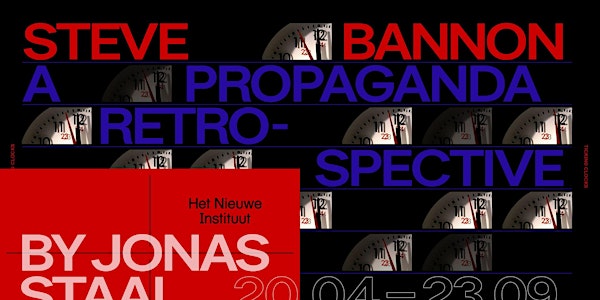 Thursday Night Live! Steve Bannon: A Propaganda Retrospective
Waar en wanneer
Locatie
Het Nieuwe Instituut Museumpark 25 Auditorium 3015 CB Rotterdam Netherlands
Kaart en routebeschrijving
Beschrijving
On Thursday April 19 Steve Bannon: A Propaganda Retrospective will open with a Thursday Night Live! programme. Artist Jonas Staal presents the first retrospective of the films and the cultural and political work of Stephen K. Bannon in Het Nieuwe Instituut, Rotterdam. Steve Bannon: A Propaganda Retrospective, curated by Marina Otero Verzier, shows how the artistic work of Bannon has shaped the core narratives and rise of the Trump presidency: an example of the importance of propaganda art in the surge of the international alt-right.
This work by Jonas Staal - described as an exhibition project - analyzes and deconstructs the mechanisms of contemporary propaganda art and raises the question of how to create possible counter-narratives in the form of an "emancipatory propaganda art".

From Filmmaker to Campaign Manager
During the opening, Jonas Staal and Marina Otero Verzier will engage in a public discussion on the alt-right and ultranationalist propaganda art with design collective Foundland (Ghalia Elsrakbi and Lauren Alexander) and NIDA politician Nourdin el Ouali, moderated by journalist and writer Chris Keulemans.

Stephen K. (Steve) Bannon is best known as campaign manager and later senior White House Advisor of US President Donald Trump, as well as former editor-in-chief of Breitbart News. Less well known is Bannon's work as a filmmaker, producing nine documentary film-pamphlets between 2004 and 2016. From In The Face of Evil (2004) to his most recent film Torchbearer (2016), Bannon sketches a grim profile of a world on the brink of disaster, beset by economic crisis, secular hedonism and Islamist fundamentalism.
About Jonas Staal
Jonas Staal is an artist and propaganda researcher, who has extensively worked on the role of art, architecture, and design in the rise of ultranationalism and the international alt-right. In 2010, he reconstructed the so-called Freethinkers' Space in the Van Abbemuseum in Eindhoven, a copy of an exhibition space founded by the Freedom Party (PVV) and the People's Party for Freedom and Democracy (VVD) in their parliamentary offices in The Hague, showcasing artists who were supposed victims of Islamist censorship. In 2011 he presented Closed Architecture, a publication, exhibition, and film on a prison model designed by PVV politician Fleur Agema before she entered politics. In 2018 Staal completed his PhD research Propaganda Art from the 20th to the 21st Century as part of the PhDArts–Promoveren in de Kunsten program at Leiden University. Staal lives and works in Rotterdam and Athens.
Foundland Collective
Foundland Collective was formed in 2009 by South African Lauren Alexander and Syrian Ghalia Elsrakbi and is today based between Amsterdam and Cairo. The platform enables us to explore shared research desires through art, design, writing, education and multidisciplinary collaboration. Foundland Collective continually experiment with different modes of working and have shifted roles from being artists, designers, editors, film directors and project organizers to educational facilitators and lecturers. Throughout development they have critically reflected upon what it means to produce politically engaged, de-colonial storytelling from our position as non-Western artists working between Europe and the Middle East. Foundland was awarded the Smithsonian Artist Research Fellowship for research in the largest Arab American archive in 2015/2016 and shortlisted for the Dutch Prix de Rome prize in 2015 and Dutch Design Awards in 2016.
Nourdin el Ouali
Nourdin el Ouali is the political leader of the Islamic political party NIDA. In 2014, El Ouali departed from GroenLinks as a council member and founded NIDA. NIDA has now two seats in the municipal council of Rotterdam and a total of six seats in the Rotterdam district commissions Charlois, Delfshaven, Feijenoord and Noord.
Thursday Bite
Before the Thursday Night you can grab a bite to eat with the speakers and staff of Het Nieuwe Instituut. At 18:00 Het Nieuwe Café will serve soup with bread or a quiche with salad. Dinner vouchers are available for € 7.50 up to a day before the particular Thursday Night Live! event via the Tickets link.