Dit evenement is afgelopen.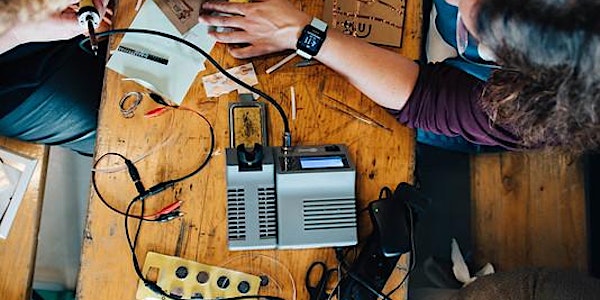 Transforming citizen sensing
Kom woensdag 9 december en donderdag 10 december naar de Transforming citizen sensing conferentie!
Over dit evenement
We hebben het maximaal aantal aanmeldingen bereikt. Daarom is de kaartverkoop gesloten. We werken met een wachtlijst. Stuur een mailtje naar teska@waag.org en we laten jou weten als er een plek vrijkomt.
//
Een tweedaagse conferentie voor het delen van wereldwijde kennis over open-source hardware voor luchtkwaliteitsmetingen.
Dit is een online evenement. Informatie over het bijwonen van de meetup volgt na registratie.
For English: see below
Op veel verschillende plekken in de wereld brengen burgers zelf luchtkwaliteit in kaart, omdat ze zich zorgen maken om hun buurt, hun gezondheid of het klimaat. Met behulp van laagdrempelige en betaalbare sensortechnologie kunnen zij data verzamelen en zijn zij in sommige gevallen zelfs onderdeel van een groter burger meetnetwerk. Denk aan de wereldwijde netwerken van open-source hardware zoals GOSH en Hackteria. Internationale sensor communities zoals global platform Sensor.Community, Public Lab en Smart Citizen kit, en Nederlandse bewegingen, zoals Snuffelfiets, Meet je stad en Hollandse Luchten. Binnen deze initiatieven is heel veel kennis en ervaring aanwezig die gecombineerd kan worden. Daarnaast komen sensor-communities momenteel veelal tot stand vanuit klassieke top-down financiering. Dit zorgt ervoor dat deze meetnetwerken enkel beschikbaar zijn voor een specifieke groep en locatie, terwijl het vraagstuk rondom luchtkwaliteit iedereen op de planeet raakt. Kortom, de hoogste tijd dat we kennis delen, van elkaar leren en sensortechnologie laagdrempelig en toegankelijk maken voor een brede groep.
Woensdag 9 december en donderdag 10 december organiseert Waag samen met SODAQ de Transforming citizen sensing conferentie. Tijdens deze tweedaagse conferentie gaat een bont gezelschap van bewoners, milieuactivisten, makers, ecologen en onderzoekers samen in gesprek over de ideale luchtkwaliteitssensor en geven we bestaande meetinitiatieven een podium om hun ervaringen te delen. Waar moet een sensor aan voldoen? En wat kunnen we leren van open-source hardware sensor initiatieven?
Betrek de gebruiker in het ontwerpproces
Het productieproces van (sensor)technologie is vaak ontoegankelijk voor de consument, die weinig tot geen zeggenschap heeft over het onderwerp van het product. Tijdens de conferentie worden de communities die gebruik maken van sensortechnologie betrokken bij de eerste fase van het ontwerpproces. Dit open productieproces wordt ook wel open-source hardware (OSH) genoemd. Open-source hardware gaat niet alleen over transparante, toegankelijke en reproduceerbare hardware, maar is vooral gericht op een participatief en community-gedreven ontwerpproces. De ervaringen van communities vormen de basis van het ontwerp en het gehele proces, van ontwerp naar prototype tot product is inzichtelijk voor gebruikers.
Dag 1 | sensor making: van use case tot ontwerpuitdaging
Op dag 1 beginnen we met presentaties van bestaande meetinitiatieven. Wat was de aanleiding om het initiatief te starten, welke lessen hebben zij geleerd, wat was de grootste ontwerpuitdaging en hoe betrekken zij de community? Vervolgens gaan we gezamenlijk in gesprek over de knelpunten bij het meten van luchtkwaliteit en gaan we dieper in op waarom en waarvoor luchtkwaliteitssensoren kunnen helpen. We eindigen deze dag met een duidelijk beeld van de behoeftes van de deelnemers en de hieraan verbonden ontwerpuitdagingen. Daarnaast laten we je weten welke rol deelnemers hebben in de verdere ontwikkeling van de sensor.
Datum: 9 december
Tijd: 19:00 - 21:15
Programma
19:00 uur - Introductie programma
19:05 uur - Presentatie use cases:
- Lukas Mocek, Sensor.Community
- Rico Euripidou, Groundworks en  Bongani Mthembu, SDCEA
19:40 uur - Q&A
19:50 uur - Pauze
20:00 uur - Delen van knelpunten en identificeren van behoeftes
20:30 uur - Formuleren ontwerpuitdagingen
21:15 uur - Afsluiting
Dag 2 | van ontwerpuitdaging tot eerste concept
Op dag 2 delen sensor makers hun kennis op het gebied van: elektriciteit, internet verbinding, sensortechnologie, modulariteit, software, datakwaliteit en datavisualisatie. In groepen zullen onderzoekers, dataspecialisten en burgerinitiatieven aan de slag gaan met de ontwerpuitdagingen van dag 1. Jouw input en kennis zal dus direct impact hebben op de sensor die ontwikkeld wordt in 2021. Aan het einde van de dag ben je op de hoogte van de laatste ontwikkelingen rondom (luchtkwaliteits)sensoren, heb je andere makers leren kennen, heb je een actieve bijdrage geleverd aan het ontwerp van een nieuwe luchtkwaliteitssensor en ben je onderdeel van een wereldwijd netwerk van sensor makers.
Datum: 10 december
Tijd: 19:00 - 21:15
Programma
19:00 uur - Introductie programma
19:05 uur - Presentatie use cases:
- Nuria Castell, NordicPATH
19:40 uur - Q&A
19:50 uur - Pauze
20:00 uur - Ontwerpuitdaging
20:35 uur - Presentatie resultaten
21:15 uur - Afsluiting
* De sprekers worden binnenkort bekend gemaakt op deze pagina.
Tijdens het programma wordt Engels gesproken. Praat je liever Nederlands? Dat is geen probleem. Sommige break-out sessies zullen in het Nederlands zijn.
Heb jij ervaring met het maken van sensoren en wil je jouw kennis delen met anderen in het veld? En wil je onderdeel zijn van een wereldwijde open-source hardware community? Of ben jij bezorgd over de luchtkwaliteit in jouw omgeving en wil je meer te weten komen over de mogelijkheden van luchtkwaliteitssensoren? Meld je dan aan voor de conferentie!
Open Next!
De Transforming citizen sensing conferentie is onderdeel van het Europese project Open Next!. Dit open-source project staat in de context van de maker movement. Deze beweging vermindert het onderscheid tussen professionele makers en amateurs. Open-source hardware (OSH) is een belangrijk onderdeel dat hieraan bijdraagt. Het maakt kennisdeling op een laagdrempelige manier beschikbaar waardoor innovatie en de do-it-yourself-cultuur terugkomt in huis en op het werk.
Dit betekent dat producten of diensten niet meer gepatenteerd, duur of gesloten worden ontworpen, maar juist toegankelijk en transparant worden gedeeld. Een bekend platform voor OSH is Wikifactory. Hier kan iedereen zijn of haar idee delen maar ook ideeën of producten van andere mensen verbeteren en nabouwen. Voor eigendomsrechten kun je uit verschillende geteste en gevestigde certificaten kiezen zoals, FOSS (gebaseerd op OSH), Creative Commons (welke verbonden is aan verschillende creatieve producten) of CERN, die zich richt op specifieke OSH en een keuze biedt voor zowel commerciële als non-commerciële doeleinden. Een non-commercieel certificaat beschermt bijvoorbeeld niet langer een volledig product maar kan opengesteld worden onder een aantal voorwaarden. Denk aan het vrijgeven van bouwtekeningen van een luchtkwaliteitssensor zodat deze overal op de wereld kunnen worden gedownload. Op deze manier geef je de mensen thuis of op het werk de mogelijkheid om zelf iets te bouwen waarmee ze hun luchtkwaliteit meten en vergroot je het bereik en betrouwbaarheid van de metingen. Deze manier van werken heeft impact op het traditionele verdienmodel en verdient in de huidige maatschappij een herdefinitie. De genoemde certificaten maken het mogelijk om een inclusieve samenwerking aan te gaan tijdens de ontwerp- en ontwikkelfase en kan doorgetrokken worden naar de ontwikkeling van nieuwe versies. Burgers en communities kunnen dan betrokken worden op basis van hun behoeften en/of vaardigheden.
Waag en Sodaq
Waag ontwikkelde eerder de HoLu-sensor met de deelnemers uit de lokale meetgemeenschappen van Hollandse Luchten. Zij hebben op dagelijkse basis te maken met luchtvervuiling en maken zich zorgen om hun gezondheid, leefomgeving en het klimaat. Door samen met hen de ontwerpvragen te formuleren, zorgen we ervoor dat de technologie in dienst komt te staan van waar de citizen scientists behoefte aan hebben. Waag en Sodaq trekken samen op en onderzoeken hoe de HoLu-sensorkit doorontwikkeld kan worden tot een duurzame sensor op basis van open-source hardware. Sodaq is gespecialiseerd in het ontwikkelen van sensortechnologie met een interesse in open-source hardware ontwikkelingen. Samen werken we toe naar het doel om een luchtkwaliteitssensor te ontwikkelen op basis van inbreng van een breed publiek, zodat we de sensortechnologie toegankelijk kunnen maken op wereldwijd niveau en zo verbinding kunnen leggen met andere gemeenschappen waar het thema van luchtvervuiling urgent is. De resultaten van de conferentie en de ontwerptekeningen worden in een later stadium hier gedeeld. In januari organiseren we een serie ontwerpsprints waar jij onderdeel van kan zijn.
In many corners of the world, people choose to measure local air quality out of concern for their neighbourhood, their health, the climate or agriculture. These citizens collect data with the help of affordable and accessible sensor technology and sometimes come together to be part of a citizen sensing network - think of the global networks of open source hardware such as GOSH and Hackteria. And then there are international sensor communities, such as global platform Sensor.Community, Public Lab and Smart Citizen kit, and Dutch initiatives, such as Snuffelfiets, Meet je stad and Hollandse Luchten. These citizen sensing initiatives now have a wealth of knowledge and experience in making open source sensors. They form sensing communities that collaborate successfully on a local level. This often takes root in top-down measurement programmes aimed at a specific group in a specific location. But air quality knows no borders — it is an urgent matter across the globe. It's about time we share knowledge, learn from each other, and make sensor technology accessible to a broad and international group with a common environmental concern.
- ENGLISH -
We have reached the maximum number of registrations. We work with a waiting list. Send an email to teska@waag.org and we will let you when we receive a cancelation.
On Wednesday December 9th and Thursday December 10th Waag and SODAQ will organise the Transforming citizen sensing conference. During this two-day conference, a wide variety of citizens, environmental activists, makers, ecologist, technical experts and researchers will come together to discuss their concerns and needs around air quality measurement. Global sensing initiatives are invited to share their knowledge. The goal is to identify the requirements a sensor should meet in order to address the common issue and to discover the limits of what is technically possible.
Involve the user in the design process
The production process of (sensor) technology is often inaccessible to the consumer, who has little or no say in the subject of the product. During this conference, the communities that use sensor technology will be involved in the first phase of the design process. This open production process is also referred to as open source hardware (OSH). Open source hardware is not only about transparent, accessible and reproducible hardware, but is mainly aimed at a participatory and community-driven design process. The experiences of communities form the basis of the design and the entire process (from design to prototype to product) is transparent for users.
What concerns are most pressing globally? What design challenges do these concerns present to sensor making? And what can we learn from experienced open source hardware initiatives around the world? Join us to find out.
Your input will be considered during the development of Sodaq and Waag's open source prototype.
Day 1 | sensor making: from use case to design challenge
On day one we will start with presentations by sensing initiatives. What prompted them to start the initiative, what lessons have they learned, what was the biggest design challenge and how do they involve the community? After this there will be a joint discussion about the bottlenecks in measuring air quality and we will go deeper into why and what air quality sensors can help for. We will end this day with a clear overview of the needs of the participants and the related design challenges. In addition, we will let you know what role participants have in the further development of the sensor.
When: Wednesday December 9
Time: 7:00 pm - 9:15 pm
Programme
19:00 hrs - Introduction programme
19:05 hrs - Presentation use cases:
- Lukas Mocek, Sensor.Community
Rico Euripidou, Groundworks and Bongani Mthembu, SDCEA
19:40 hrs - Q&A
19:50 hrs - Break
20:00 hrs - Sharing concerns and identify needs
20:30 hrs - Formulate design challenges
21:15 hrs - End
Day 2 | from design challenge to first sensor concepts
On day two, sensor makers will share their knowledge on: electricity, internet connection, sensor technology, modularity, software, data quality and data visualisation. In groups, researchers, data specialists and citizen initiatives will work on the design challenges of day one. Your input and knowledge will therefore have a direct impact on the sensor that will be developed in 2021. At the end of the day, you will know the latest developments in (air quality) sensors, you will have gotten to know other makers, you will have made an active contribution to the design of a new air quality sensor and you will be part of a worldwide network of sensor makers.
When: Thursday December 10
Time: 7:00 pm - 9:15 pm
Programme
19:00 hrs - Introduction programme
19:05 hrs - Presentation use cases:
- Nuria Castell, NordicPATH
19:40 hrs - Q&A
19:50 hrs - Break
20:00 hrs - Design challenge
20:35 hrs - Presents results
21:15 hrs - End
* Speakers will be announced on this page shortly.
Do you have experience in making sensors and would you like to share your knowledge with others in the field? And do you want to be part of a worldwide, open source hardware community?
Join us online on december 9 & 10
Open Next
The Transforming citizen sensing conference is part of the European Open Next project. This open source project links to the maker movement. This movement reduces the distinction between professional makers and amateurs. Open source hardware (OSH) is an important part that contributes to this. It makes knowledge sharing available in an accessible way, so that innovation and the do-it-yourself culture is reflected in the home and at work.
This means that products or services are no longer designed to be patented, expensive or closed, but rather accessible and transparent. A well-known platform for OSH is Wikifactory. Here everyone can share his or her idea, but also improve and recreate ideas or products from other people. For proprietary rights, you can choose from several tested and established certificates such as, FOSS (based on OSH), Creative Commons (which is linked to different creative products) or CERN, which focuses on specific OSH and offers a choice of both commercial and non- commercial goals. For example, a non-commercial certificate no longer protects a complete product, but can be opened up under a number of conditions. Consider releasing construction drawings of an air quality sensor so that they can be downloaded from anywhere in the world. In this way you give people at home or at work the opportunity to build something themselves with which to measure their air quality and you increase the range and reliability of the measurements. This way of working has an impact on the traditional business model and deserves a redefinition in today's society. The certificates mentioned make it possible to enter into an inclusive collaboration during the design and development phase and can be extended to the development of new versions. Citizens and communities can then be involved based on their needs and/or skills.
Waag and Sodaq
Waag previously developed the HoLu sensor with participants from the local measurement communities of Hollandse Luchten. They deal with air pollution on a daily basis and are concerned about their health, environment and climate. By formulating the design questions together with them, we ensure that the technology serves what the citizen scientists need. Waag and Sodaq are working together and are investigating how the HoLu sensor kit can be further developed into a sustainable sensor based on open source hardware. Sodaq is specialised in developing sensor technology with an interest in open-source hardware developments. Together we work towards the goal of developing an air quality sensor based on input from a wide audience, so that we can make sensor technology accessible at a global level and thus connect with other communities where the theme of air pollution is urgent. The results of the conference and the design drawings will be shared here at a later stage. In January we organise a series of design prints that you can be part of.