Dit evenement is afgelopen.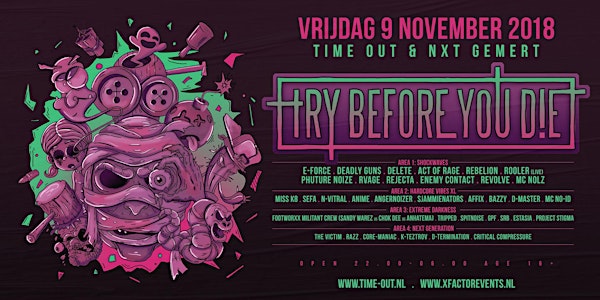 Waar en wanneer
Locatie
Time Out Uitgaanscentrum Handelseweg 11 5423 SB Gemert Netherlands
Kaart en routebeschrijving
Beleid voor refunds
Geen refunds
Beschrijving
The lineup of Time Out's infamous hardest styles party: TRY BEFORE YOU DIE! This edition is bigger, better, harder and faster than this groundbreaking event has ever encountered.
The selection of artists consists of only the toughest and hardest RAW, Hardcore and Uptempo artists. From explosive and crushing kicks to fast and blazing speeds, this line-up is the ultimate formula that will guarantee one hell of a party you won't easily forget. Brace yourselves and give it up for the full lineup of TBYD 2018!
AREA 1 - SHOCKWAVES
E-Force
Deadly Guns
Delete
Act of Rage
Rebelion
Rooler LIVE
Phuture Noize
Rvage
Rejecta
Enemy Contact
Revolve
MC Nolz
AREA 2 - HARDCORE VIBES XL
SEFA
Miss K8
N-Vitral
Anime
Angernoizer
Sjammienators
Affix
Bazzy
D-Master
MC No-ID
AREA 3 - EXTREME DARKNESS
Footworkxx Militant Crew (Sandy Warez VS Chok Dee VS Anhatema)
Tripped
Spitnoise
GPF
SRB
Estasia
Project Stigma
AREA 4 - NEXT GENERATION
The Victim
Razz
Core-Maniac
K-Teztrov
D-Terminaton
Critical Compressure