Dit evenement is afgelopen.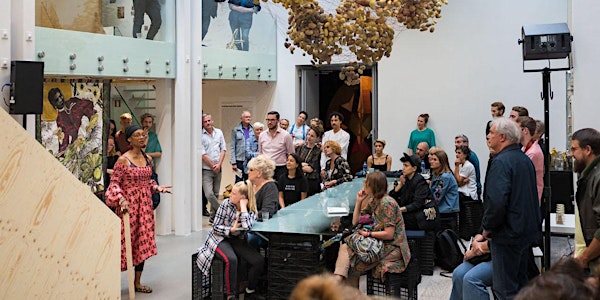 Unforgetting: Storytelling performance and conversation
A storytelling performance by Denise Valentine, followed by an intimate conversation with Denise Valentine and Nancy Jouwe.
Waar en wanneer
Locatie
BAK, basis voor actuele kunst Pauwstraat 13a 3512 TG Utrecht Netherlands
Kaart en routebeschrijving
Beleid voor refunds
Neem contact op met de organisator om een restitutie aan te vragen.
Eventbrite-kosten zijn niet restitueerbaar.
Over dit evenement
Join us on Sunday 29 September for a public event in the context of project Trainings for the Not-Yet. Unforgetting includes a storytelling performance by Denise Valentine, followed by a conversation between Valentine and Nancy Jouwe. Come along on storyteller Denise Valentine's fantastic journey to find out "where she's from." She uncovers surprising connections to ancestral homelands, and along the way, learns that all roads lead to home.
Unforgetting is part of The Master Narratives, a series of stories that emerge from Valentine's research on storytelling as a process for crafting historical narratives related to slavery and other so-called "difficult knowledge" by building (or peeling back) layers of context in the explication of history and the construction/reconstruction of identity. In this series, Valentine uncovers connections between her ancestral homelands and contemporary neighborhoods of the city of Philadelphia, her hometown. Philadelphia maps, street names (many named after enslavers), and monuments become compasses on the journey, whilst diaries of plantation mistresses, oral histories, folklore, and other archival material constitute her primary sources of inspiration.
Following the storytelling performance, Valentine and Jouwe initiate a conversation on the intersections and correspondences of their practices.
This event is the culmination of the training Unforgetting & Reconnecting: Story Mapping that takes place earlier that week (as part of Trainings for the Not Yet), a week of exercises, deep reflection, inquiry and investigation to build—or peel back—layers of context in the explication of history and the (re)construction of personal and social identities.
Denise Valentine is a master storyteller, historical performer, consultant, and founder of The Philadelphia Middle Passage Ceremony & Port Maker Project.
Nancy Jouwe is a cultural historian. She is Chairwoman of BAK Supervisory Board, co-founder of Framer Framed, Amsterdam and one of the initiators of Mapping Slavery, a transnational research project that maps the Dutch colonial history of slavery.
Tickets: €6 normal, €3 student discount. Ticket includes entry to exhibition Trainings for the Not-Yet on that same day, during opening hours (13.00-19.00). Participants to the training by Denise Valentine and Nancy Jouwe can attend this event for free.