Dit evenement is afgelopen.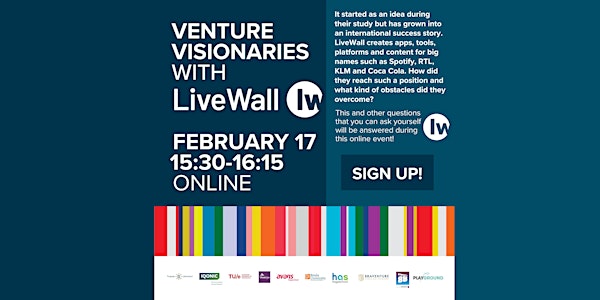 Venture Visionaries
Venture Visionaries met LiveWall
Datum en tijd
do. 17 feb. 2022 06:30 - 07:15 PST
Over dit evenement
Get inspired by well-known entrepreneurial speakers! This event is all about getting inspired by the stories of several entrepreneurs. Next to this, you get the opportunity to ask questions to the entrepreneurs!
The entrepreneur who will share his story this edition will be:
Eelco van de Wiel - LiveWall
It started as an idea during their study but has grown into an international success story. LiveWall creates apps, tools, platforms and content for big names such as Spotify, RTL, KLM and Coca Cola. How did they reach such a position and what kind of obstacles did they overcome?
This and other questions that you can ask yourself will be answered during this live online event.
The event is open to everyone via live streaming.