Dit evenement is afgelopen.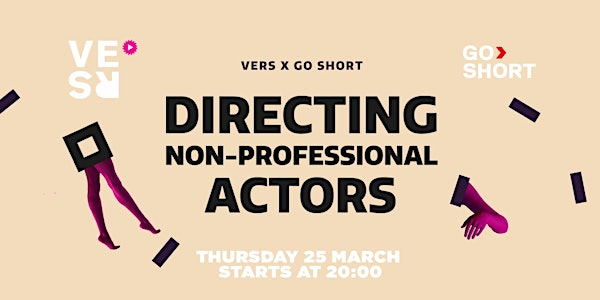 VERS x Go Short: Directing Non-Professional Actors
In this panel we talk to directors that have casted and worked with first time actors about their experiences.
Beleid voor refunds
Neem contact op met de organisator om een restitutie aan te vragen.
Eventbrite-kosten zijn niet restitueerbaar.
Over dit evenement
This event will be held in English!
Every director wants the best possible performance in their film. But quality is not always defined by professionalism. Untrained actors can add something special and authentic to the role they're playing. And since short films are usually produced with lots of passion but low budgets, it sounds interesting to cast non-professional actors, that are more affordable than their experienced colleagues. In this panel we talk to directors that have casted and worked with first time actors about their experiences.
Panelists:
Aslak Danbolt, director of Mamma (Norway, 2021, 15'), part of Go Short Euopean Competition
Aslak Danbolt (1980) is from Bergen, Norway. He began his journey into filmmaking at Lillehammer University College, where he got a BA in Film History and Theory and a BA in Documentary Directing. He then went on to attend the London Film School. His graduation film Last Base (2014) was screened at more than 120 festivals. After graduating he directed the documentary series Petter Uteligger – 52 days on the streets of Oslo (2015) which became a big commercial hit. Mamma is his first short film after film school.
About the film: It's Christmas Eve, and Synnøve is searching for her drug-addicted daughter Michelle in a mostly desolated city. During the course of the evening she'll find herself in an impossible situation where she'll be forced to choose. (Synnøve and Michelle are mother and daughter in real life, and play versions of themselves in a story that is very close to their own lives).
Elsa Rosengren, director of I Want to Return Return Return (Germany, 2020, 30'), part of Go Short Student Competition
Elsa (1989) was born in Gothenburg, Sweden. After working at sea in her early 20s, she started making films while attending Rhode Island School of Design, USA. Elsa graduated from the Deutsche Film- und Fernsehakademie Berlin in January 2020 with I Want to Return Return Return.
About the film: A late-summer morning in Wrangelkiez, Berlin, Elpi, a young Greek woman, receives a phone call from a long-lost friend. As the day progresses, Elpi's apprehensive wait for their reunion interweaves with the lives of other neighbourhood locals. In the neighbourhood there is a lingering feeling of wanting to get back to something. But to where, to what, and to whom?
Marieke Elzerman, director of Come Here (Netherlands, Belgium, 2020, 26'), part of Go Short Dutch Competition.
Marieke (1996) was born in Amsterdam. Her bachelor project Marieme, Marieke (2018) premiered at Galerie Van Gelder, Amsterdam. In 2018 she did an internship in Lisbon with the Portuguese director Salomé Lamas and was selected for the workshop 'Filming in Peru' with Werner Herzog. Following her graduation from the master's film programme at KASK Ghent, she will follow postgraduate course at the Elías Querejeta Zine Eskola in San Sébastian.
About the film: Sam is a shy young woman who works as a dog caretaker at the animal shelter in Ostend. Her colleague Koen is a dog behavioural therapist, he teaches people about the upbringing of dogs. Sam prefers to stay with the animals and is fully committed to the daily chores at the shelter. But when Sam meets a nervous young woman who struggles with the upbringing of her dog, she decides to help her in her own way. Come here is a sensory portrait of a burgeoning friendship in sound, gesture and movement.
About:
Date: Thursday 25 March 2021
Location: Online (More detailed information will be sent to the participants, including access to the three short films via Vimeo screenerlink)
Duration: 20:00-21:00 hrs.
Note: The short films Mamma, I Want to Return Return Return and Come Here will be available for the participants from thursday morning, 25 March. A protected screener link will be sent via email.
- Regular tickets are € 5,- (+ service costs) and are available via Eventbrite.
- Free for VERS members. Please fill in your membernumber on the Eventbrite reservationform.