Dit evenement is afgelopen.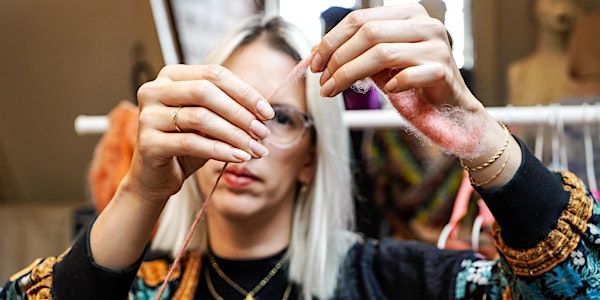 Waag Open: A deep dive into the TextileLab
Come have fun during a hands-on workshop while building and using your own drop spindle to spin wool into yarn!
Waar en wanneer
Locatie
Waag, Nieuwmarkt Nieuwmarkt 4 1012 CR Amsterdam Netherlands
Kaart en routebeschrijving
Beleid voor refunds
Neem contact op met de organisator om een restitutie aan te vragen.
Eventbrite-kosten zijn niet restitueerbaar.
Over dit evenement
Are you interested in learning how to spin your own wool yarns, how to biofabricate your own material or how to dye with bacteries? Come to Waag Open and have a look behind the scenes of our TextileLab! We welcome you to this Waag Open to showcase the research our TextileLab is currently working on.
Programme
19:15 - 19:30 Doors Open
19:30 - 19:50 TextileLab Amsterdam presentation
19:50 - 20:05 Fabricademy showcase
20:05 - 21:15 Shemakes hands-on workshop : Make your own drop spindle and learn how to spin wool into yarn
21:15 - 21:30 Ending
21:30 End of program
This programme is in English. A ticket includes a drink.
Shemakes hands-on workshop
During the hands-on workshop, you learn how to build your own drop spindle. We will also spin some of the wool we have naturally dyed in the lab. Part of the on-going TextileLab's research, Shemakes project has a goal to empower future female innovators of the sustainable fashion industry through inspiration, skills and networks.
One of the initiatives coming from Shemakes, is a multi-faceted research into the Wool Ecosystem, from the sheep and people working with them to the tools and methods used in order to process wool into the clothing we use. Take a look at the topic.
About TextileLab Amsterdam
Waag's TextileLab Amsterdam is a lab for fashion, textile and material designers, researchers, artists, engineers and creatives is interested in exploring the future of the textile and clothing industry. We experiment with knowledge coming from craftsmanship, heritage, technology, digital fabrication and bio-technology. We believe in collaboration, transparency, process, collective intelligence and knowledge sharing, in order to push the boundaries of the textile and clothing industry.
Fabricademy - Textile and Technology Academy
If you would like to work with us at TextileLab Amsterdam: that's possible! We host a yearly Fabricademy, a Textile and Technology Academy. It's a 6 month intensive program that runs in laboratories all over the world, exploring the interrelation of human-technology-environment. Our mission is to (re)shape and (re)define the implications and applications of technology in the textile and clothing industry, from the fashion sector to the upcoming wearable market. Participants will have the chance to see some outcomes from previous years during a tour in the lab's facilities.