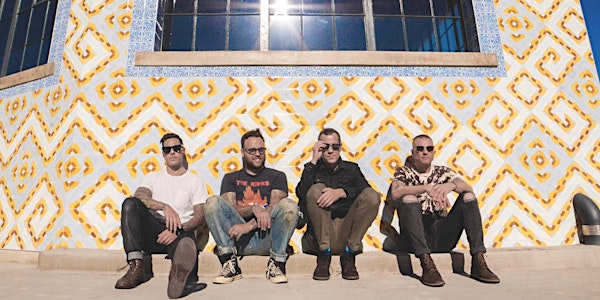 WAYS AWAY (US) + FEVERCHILD (BE) + RIGGED (BE)
A group composed out of members of Knapsack / Stick To Your Guns / Samiam / The Hope Conspiracy
Datum en tijd
ma. 3 jul. 2023 19:30 - 22:30 CEST
Locatie
Kavka Oudaan 14 Oudaan 2000 Antwerpen Belgium
Beleid voor refunds
Neem contact op met de organisator om een restitutie aan te vragen.
Eventbrite-kosten zijn niet restitueerbaar.
Over dit evenement
3 uren

eTicket voor mobiel
WAYS AWAY (US)
Alternative-punk band WAYS AWAY have recently released their sophomore album, Torch Songs, on Other People Records. This release is a follow up to their split with Iron Chic. Produced and mixed by Beau Burchell (Saosin) and mastered by Mike Kalajian at Rogue Planet, the eleven tracks on Torch Songs pack a punch – from fast, gritty punk tracks to more melodic numbers. A product of the pandemic, the record explores themes of anti-capitalism and living in the current state of the world, as well as approaching more personal moments about love and loss. https://waysaway.bandcamp.com/
FEVERCHILD (BE)
Following their 2021 self-titled EP, Feverchild continued to write and have had the opportunity to play songs in front of a live audience for the first time—mostly amongst the Belgian hardcore scene. "Witching Hour" and "You Know I Can't" pick up where their previous EP left off—incorporating much of the '90s emo influences heard prior, but with more post-hardcore leanings. Heavier guitar riffs and palm muting recall the sound from heavier '90s emo bands like Memorial Day, early-Falling Forward, and Kill Holiday. Lyrically, Feverchild still delivers strongly and thoughtfully with a memorable bridge like, "So cure me—secure me". Feverchild continues to progress in the genre, with the help of producer, Gilles Demolder, to write their strongest songs yet. It's a preview of what's to come.
https://feverchildband.bandcamp.com/
RIGGED (BE)
An energetic mix of indie rock and post-punk, influenced by 90ies alternative rock and indie music, punk/hardcore and a slice of heartland rock.
https://rigged.bandcamp.com/