Dit evenement is afgelopen.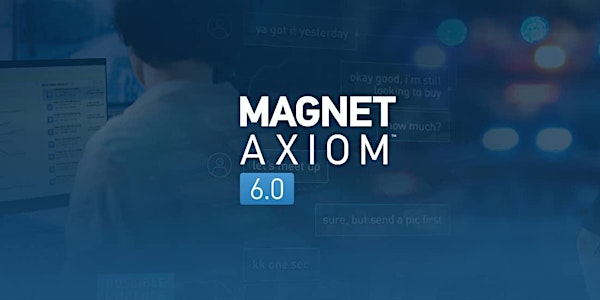 Webinar: Introducing Magnet AXIOM 6.0
During this webinar we will showcase the most important changes and new features of Magnet AXIOM version 6.0.
Over dit evenement
Nederlandse omschrijving (see below the English description)
Webinar: Maak kennis met Magnet AXIOM 6.0
Onlangs lanceerde Magnet de 6.0 versie van Magnet AXIOM. Met deze nieuwe versie heeft Magnet niet alleen fantastische nieuwe functionaliteiten toegevoegd, maar ook de algemene gebruikerservaring van de software verbeterd. In de nieuwe versie is de AXIOM workflow gestroomlijnd en is de connectie tussen mobile en cloud onderzoeken versterkt. Een greep uit de nieuwe features:
Het Cloud Insight Dashboard
De Magnet Apple Warrant Return Assistant
E-mail herstel ondersteuning voor Windows Mail en de Outlook App
Dark modus
Op dinsdag 14 juni a.s. om 11:00 zullen we samen met Magnet Forensics de belangrijkste wijzigingen en nieuwe features demonstreren - en laten we u zien hoe u meer tijd kunt besparen, meer relevante data kunt vinden en uw onderzoeken kunt stroomlijnen met Magnet AXIOM 6.0.
English description
Webinar: Introducing Magnet AXIOM 6.0
Recently, Magnet launched Magnet AXIOM 6.0. With the 6.0 version, Magnet brought in great new features as well as making significant improvements to the overall experience of working in Magnet AXIOM. In the new version they have streamlined the workflow in AXIOM and specifically tightened the connections between mobile and cloud investigations. Furthermore, Magnet introduced:
The Cloud Insight Dashboard
The Magnet Apple Warrant Return Assistant
Email Recovery Support for Windows Mail and the Outlook App
Dark mode
And so much more!
On June 14th at 11:00 AM CET Magnet Forensics and DataExpert will showcase this major release — showing you how you can save more time, acquire more data, and streamline your investigations with Magnet AXIOM 6.0.