Dit evenement is afgelopen.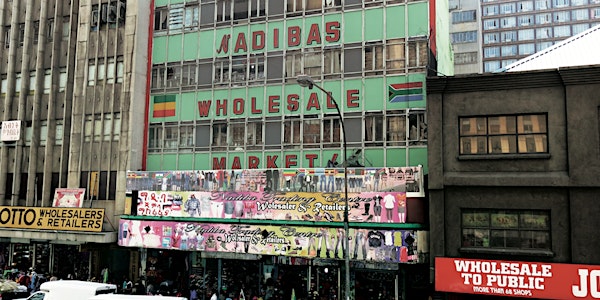 Welcome to Johannesburg
Waar en wanneer
Locatie
Het Nieuwe Instituut Museumpark 25 Auditorium 3015 CB Rotterdam Netherlands
Kaart en routebeschrijving
Beleid voor refunds
Restituties tot 1 dag voor evenement
Eventbrite-kosten zijn niet restitueerbaar.
Beschrijving
Welcome to Johannesburg
Zahira Asmal narrates a highly personal journey through the obstacles, triumphs and challenges of making place in a developing African City.
In a dynamic multi-media presentation, Zahira pulls together the threads of South Africa's spatial history: colonialism, apartheid, forced removals, migrant labour, the new Afripolitan city. She critiques a development ideology that celebrates modernity, rather than successfully integrating the past into the present. She imagines a pan-African vision, where government, citizens, the diaspora all contribute to the experience of everyday design.
Zahira investigates South Africa's contested history. How has this influenced the making of memories and urban identities? How do people navigate the new democratic city? Who has agency to make place in the country's biggest metropolis?
Zahira takes the audience behind the corrugated iron and razor wire that boards up old spaces in Johannesburg. She bravely invites us to witness her battles with a stubborn municipal bureaucracy. She offers her dreams and hopes for our analysis.
This is a unique, intimate and unmissable snapshot of the human aspect embedded within the design process. Zahira's journey offers international insights, personal perspectives, and a good dose of optimism.
Reviews:
"In this evocative lecture, Zahira Asmal shares the complexities of working on the ground in the contested urban conditions of Johannesburg. Her commitment to careful, informed and ambitious interventions, relating to the city's physical heritage as well as its social fabric are exemplary of today's avant-garde grounded urban practice."
– René Boer, Managing Editor, Failed Architecture
"Zahira's lecture is informative and provocative. Her engagement with the different levels of local authority throughout the project reflects a profound understanding of urban politics in the South African context. Her grounded practice offers a model of spatial activism for other initiatives in African cities and the Global South."
– Omar Nagati, Managing Director, CLUSTER (Cairo Lab for Urban Studies Training & Environmental Practice)
"Zahira's contribution to the 2018 edition of African Crossroads was one of the highlights amongst its participants. 'Welcome to Johannesburg' lives on as a thought provoking and compelling account – radically advocating for a re-imagining of the urban future of African cities."
– Arthur Steiner, Global Programme Manager, Hivos
Thursday Bite
Before the Thursday Night you can grab a bite to eat with the speakers and staff of Het Nieuwe Instituut. At 18:00 Het Nieuwe Café will serve a light vegetarian meal. Dinner vouchers are available for € 7.70 up to a day before the particular Thursday Night event via the Tickets link.
Become a Member
Become a Member of Het Nieuwe Instituut and you'll support our mission to navigate the vast and evolving field of design. You'll also be inspired by our special program of Members' events, meeting up with other like-minded people as we invite you to reflect with us on design's changing role in technology, economics, culture and society.