Dit evenement is afgelopen.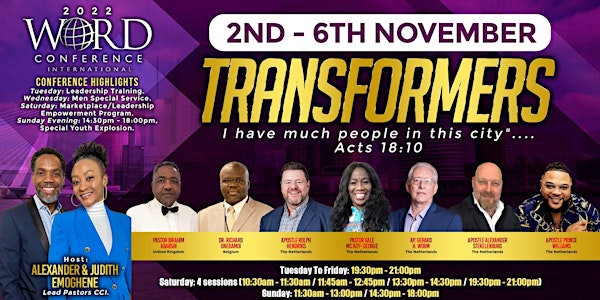 Word Conference 2022: Transfomers (Session 3)
The Word Conference is an event organized by Claypot Church International; this annual event has touched countless lives over the years.
Waar en wanneer
Locatie
Claypot Church International 2 Spoorlaan 2908 BG Capelle aan den IJssel Netherlands
Kaart en routebeschrijving
Over dit evenement
This year's theme is Transformers. Expect the supernatural and a time of refreshment in the presence of God.
From tuesday, November 2th through Sunday, November 6th 2022, you are welcome for four blessed days of prophetic words about your health, family, finances, your marketplace ministry, and accomplishing your mission in God and Meet one of our guest speakers at the Word Conference 2022
Rolph and Hyona Hendriks lead Power City church in the Netherlands.
They have been in full time ministry since 1994, pastored several churches and traveled to over 60 nations to bring God's healing, deliverance and salvation to many around the world.
They have a passion for the church and for seeing people live in total victory in every area of life and to function as an effective instrument in society.
Their messages often carry a prophetic substance with a strong presence for the breaking of strongholds. They encourage listeners with applicable revelation to help them obey their high call