Dit evenement is afgelopen.
Word Conference 2022: Transformers
The Word Conference is an event organized by Claypot Church International; this annual event has touched countless lives over the years
Waar en wanneer
Locatie
Claypot Church International 2 Spoorlaan 2908 BG Capelle aan den IJssel Netherlands
Kaart en routebeschrijving
Over dit evenement
This year's theme is Transformers. Expect the supernatural and a time of refreshment in the presence of God.
You are welcome for a blessed days of prophetic words about your health, family, finances, your marketplace ministry, and accomplishing your mission in God. And meet one of our guest speakers at the Word Conference 2022 .
Meet one of our guest speakers at the Word Conference 2022 :
Prince Williams has been called, commissioned and sent by God to preach the gospel to the world. He is an anointed, passionate preacher, prophet, teacher and an apostle of the Lord. He has a unique gift of imparting the Word of God clearly, bringing many souls into the Kingdom of God and effecting spiritual change and growth in the lives of believers.
He is the founder of "The Apostolic Center Global " (headquartered in The Netherlands) where he trains and equips leaders in their gifts and talents.
Apostle Prince boldly speaks the undiluted, unfiltered, unreserved Word of God. He is anointed in the ministry of prayer, healing, deliverance, miracles and the prophetic.
He serves as spiritual father to many across the world. He has been on missionary to countries such as: Jamaica, America, Europe,United Kingdom Suriname, Curaçao, Africa and Nepal.
He is husband to Terricka Williams and a father of four (4) children.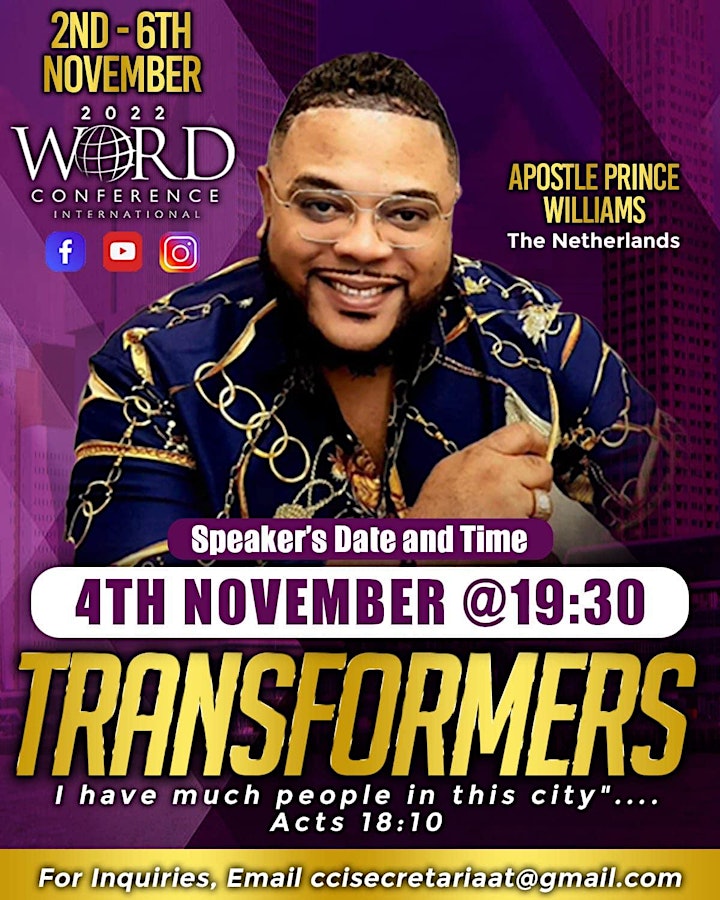 Meet one of our other guest speakers at the Word Conference 2022 :
Apostle Alexander Stekelenburg
He is the founder of Alexander Stekelenburg Ministries, StartUP Ministry Network and Eagles Nest International. He is an apostolic and prophetic leader that carries revelation and understanding to both the logos and rhema word of God. To bring a word in season is the hall mark of his ministry and have blessed many people, churches and ministries around the globe!