Dit evenement is afgelopen.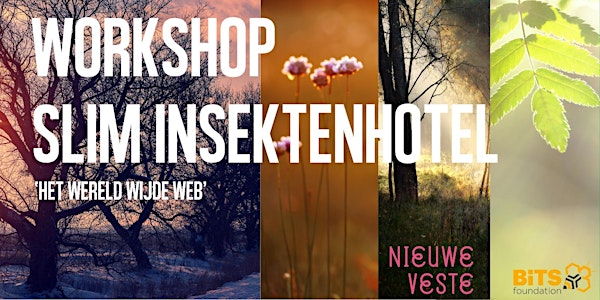 Workshop Internet of Things - bouw een slim insectenhotel
Zelfbouw tech-workshop voor natuurliefhebbers ! Gebruik sensors, data en Internet of Things technologie.
Over dit evenement
Let op: aanmelden is alleen mogelijk als je woonachtig bent in Breda.
Het internet of things, wat is dat nou eigenlijk? En wat hebben insekten daarmee te maken?
Voorafgaand aan de workshop ontvang je een bouwpakket met alle onderdelen voor jouw 'slimme insektenhotel'. Tijdens de workshop zetten we dit in elkaar. Ondertussen leer je meer over het insektenhotel en wat dit slim maakt? Termen als Internet of Things, LoRa en Smart Cities worden verduidelijkt met concrete voorbeelden. Aan het einde weet jij hoe je vanuit je achtertuin bijdraagt aan klimaatonderzoek.
Deze workshop is bedoeld voor volwassen, maar je kan natuurlijk ook zoon of dochter met je mee laten doen. Nog leuker ! De workshop is kosteloos en vindt driemaal plaats in de maand december.
Wat ga je doen ?
1.Meld je natuurlijk als eerste stap aan voor deze workshop.
2. Je ontvangt hiervan per mail een bevestiging.
3. Je ontvangt thuis op jouw opgegeven adres een tof pakket inclusief de onderdelen voor het Insektenhotel, een sensor van Techtenna en een korte uitleg.
4. Je krijgt een link om via je computer thuis de workshop via een livestream te volgen.
5. In de workshop ga je aan de slag en je bouwt het hotel, plaatst de sensor!
6. Daarna plaats je het Insektenhotel in je tuin of in je buurt.
7. Op een speciale website zie je waar alle hotels in Breda eo staan en lees de data over het klimaat!
Deze workshop wordt gegeven door de coaches van de Makersbase van Nieuwe Veste in Breda. De sensor en website worden ontwikkeld door Techtenna en SolidForm Websolutions in Breda.
Alvast meer weten over Smart city, LoraWan of IoT - kijk hier https://techtenna.com/nl/
We zien elkaar graag op 16 of 19 dec (online) !