Dit evenement is afgelopen.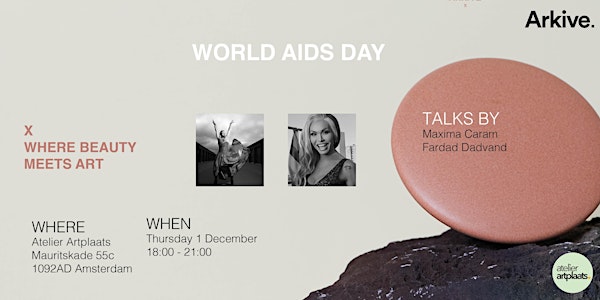 WORLD AIDS DAY X BEAUTY MEETS ART
WORLD AIDS DAY SPEAKERS EVENT
Waar en wanneer
Locatie
Atelier Artplaats 55C Mauritskade 1092 AD Amsterdam Netherlands
Kaart en routebeschrijving
Over dit evenement
With WORLD AIDS DAY on the calendar this week, Thursday 1 December. We would like to take this moment to raise awareness, educate and talk about the importance of equalizing access to treatment.
We invited Maxima Caram and Fardad Dadvand, 2 inspiring people to talk about LGBTQ, HIV, their personal history, and how it is to talk about these topics in the countries where they originated from.
If would you like to be inspired by their story and what makes them feel beautiful from the inside- and outside, join us!
Free drinks, entrance & opportunity for Q&A's.
Research shows that stigma associated with sex work and LGBT populations, internationally, is a growing factor in unequal access to effective treatment. International AIDS funding began to fall for the first time in 2015, but still, less than half of those suffering from HIV/AIDS have access to anti-retroviral treatment across the world. It's never been more important to draw attention to the inequalities in treatment, in order to stop its spread once and for all.