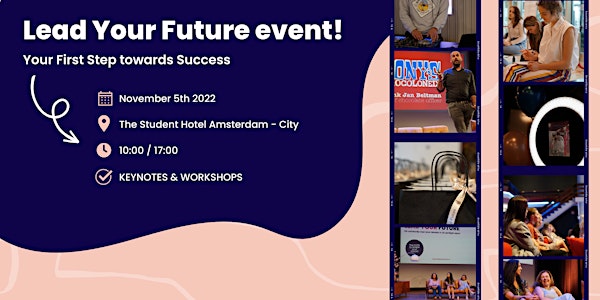 Your First Step Towards Success - Hét Lead Your Future Jaar Event
The Lead Your Future Year Event is the place to develop your skills and kickstart your career! Learn from the best and get started!
Waar en wanneer
Locatie
The Student Hotel Amsterdam City 129 Wibautstraat 1091 GL Amsterdam Netherlands
Kaart en routebeschrijving
Beleid voor refunds
Neem contact op met de organisator om een restitutie aan te vragen.
Eventbrite-kosten zijn niet restitueerbaar.
Over dit evenement
(See English below)
Ben je bang om in een gat te vallen na je studie tijd? 😱 Het is normaal om niet alles al te weten terwijl je student bent. Geloof ons, het komt goed! Tijdens ons jaar event zijn er verschillende workshops en keynotes die onmisbare handvatten en waardevolle lessen zullen delen om te zorgen dat jij goed voorbereid bent voor de Kickstart van jouw carrière!💥
Onze fantastische sprekers!🤩
GOSHARING 🛵💨 - Raymon Pouwels
Denk je aan groen elektrisch vervoer, dan denk je aan GoSharing. CEO Raymon Pouwels van GoSharing zal aanwezig zijn om zijn persoonlijke verhaal te delen achter het succes van GoSharing! GoSharing gelooft in een groene planeet met gedeeld vervoer van iedereen, voor iedereen! GO Sharing wil 100% elektrisch deelvervoer voor iedereen van deur tot deur toegankelijk maken.🔋💡Met GO Sharing kan iedereen bijdragen aan een groenere en leefbare toekomst. Maar dat is nog niet alles! Ook krijg jij de kans om jouw business idee bij hem te pitchen! Hoe vet?
CLAY AND GLOW ✨ - Julia Veer
Op 21-jarige leeftijd begon Julia Veer (24 jaar)na het krijgen van allergische reactie op vrijwel alle skincare producten het bekende skincare merk Clay & Glow. Problem-solving skincare products, but cute! Dat is waar Clay and Glow voor staat. Julia zal tijdens het jaarevent aanwezig zijn om al haar geheimen met jullie te delen over hoe ze op jonge leeftijd al zo succesvol is! Genoeg reden om aanwezig te zijn!
Naast onze sprekers zullen er verschillende waardevolle workshops zijn! Benieuwd naar welke workshops jij kan gaan volgen? 👀
Shake up that business 🥤 - CO-Founder Marie-Claire Spencer
Wat doe je als je creatief bent en sterk in conceptueel denken? Klinkt goed, maar hoe kom je erachter hoe je de waarde van je concepten en ideeën kunt testen? Kom meer te weten over de 21e eeuwse 'Business Shake methode' van Lead Your Future.
Discover Your Talent 🔎- CO-Founder Stella van der Sluis
Wat is talent? Ben je hier mee geboren of kun je deze ook aanleren? Ontdek de sweet spot tussen je passies, talenten, skills en waarde tijdens de workshop Discover Your Talent! 💥
Personal Branding 💁🏽‍♀️ -
Personal branding is nog nooit zo belangrijk geweest. Iedereen heeft een personal brand, ook jij. Ook al ben je daar misschien nog niet bewust mee bezig, je hebt er echt één. Je social media kanalen, je werk ervaring, de manier waarop jij jezelf kleedt en gedraagt dragen allemaal bij aan jouw personal brand. ⁠Toekomstige werkgevers kijken hier naar, sterker nog, het is vaak een groot onderdeel van of jij wordt aangenomen of niet. Daarom vinden we het belangrijk jou hiervoor de juiste kennis te bieden. En nu is die kennis er in de vorm van een fantastische workshop
Boos your self -confidence 💥 Majlis Schweitzer presentatie en persoonlijke ontwikkelingcoach van Speechen.nl
Er zijn maar weinig dingen die stressvoller zijn dan voor een menigte staan ​​om een ​​presentatie te geven. Maar als je serieuze ambities hebt, ontkom je er niet aan. In onze masterclass 'Boost je zelfvertrouwen' leer je nieuwe skills om je eigen sales team te worden en jezelf op een killer manier te presenteren!
How To Build a Successful CV 👀
Solliciteren? Je CV opfrissen? Of alvast wat tips en tricks om dat belangrijke papiertje op te leuken? Wij zijn er voor je! Deze workshop is perfect als jij wilt weten waar recruiters naar kijken op jouw CV. Laat een goede indruk achter door ervoor te zorgen dat jouw CV er he-le-maal verzorgd uitziet.
Q&A ondernemerschap❓ Sabrina Putri, Winifred Ereku
Ga in gesprek en stel al je vragen aan interessante ondernemers! Hoe zijn zij gekomen waar ze nu zijn, hoe doe je dat?
Het begint hier! 👇🏼
Na afloop loop jij dus de deur uit met een koffer vol extra kennis en interessante waardevolle netwerkconnecties die jou gaan helpen met het bouwen van jouw droom carrière!💫
We koppelen, verbinden, motiveren, inspireren en empoweren jou als talent om kansen te grijpen en leiding te nemen over jouw eigen toekomst!💥
Waar wacht je nog op? 👀
---------------------------------------------------------------------------------------------------
Are you afraid of falling into a gap after college? 😱 It is normal not to know everything while you are a student. Believe us, it will be fine! During our annual event there will be several workshops and keynotes that will share indispensable tools and valuable lessons to ensure that you are well prepared for the Kickstart of your career!💥
Our fantastic speakers!🤩
GO SHARING 🛵💨- Raymon Pouwels
Think of green transport, think of Go Sharing. Go Sharing CEO Raymon Pouwels will be there to share his personal story behind the success of GoS haring! GoSharing believes in a green planet with shared transport from everyone, for everyone! GO Sharing offers 100% electric shared transport as a new, flexible way of travel all via one app. But that is not everything! You also get the chance to pitch your business idea to him! How cool?
CLAY AND GLOW ✨- Julia Veer
At the age of 21, Julia Veer (now 24 years old) was getting an allergic reaction to all skincare started the well-known skincare brand Clay & Glow on all skincare products. Problem-solving skin care products, but cute! That's what Clay and Glow stands for. Julia will be present at the annual event to share with you all her secrets about how successful she is at such a young age! Enough reason to attend!
In addition to our speakers, there will be several workshops! Curious about which workshops you can follow? 👀
Shake up the Business🥤 - Co-Founder Marie-Claire Spencer
What do you do if you are creative and strong in conceptual thinking? Sounds great, but how do you find out how to test the value of your concepts and ideas? Learn more about Lead Your Future's 21st century 'Business Shake method'.
Discover your talent 🔎- Co-founder Stella van der Sluis
What is talent? Were you born with this or can you learn it? Discover the sweet spot between your passions, talents, skills and value during the Discover Your Talent workshop!
Personal Branding 💁🏽‍♀️
Personal branding has never been more important. Everyone has a personal brand, including you. Even though you may not be aware of it yet, you really do have one. Your social media channels, your work experience, the way you dress and behave all contribute to your personal brand. ⁠Prospective employers look at this, in fact it is often a big part of whether you get hired or not. That is why we think it is important to offer you the right knowledge for this. And now that knowledge is there in the form of a fantastic workshop!
Angry your self -confidence 💥 - Majlis Schweitzer presentation and personal development coach from Speechen.nl
There are few things more stressful than standing in front of a crowd to give a presentation. But if you have serious ambitions, you can't escape them. In our masterclass 'Boost your self-confidence' you learn new skills to become your own sales team and present yourself in a killer way!
How To Build a Successful Resume
Apply? Refresh your resume? Or do you have some tips and tricks to brighten up that important piece of paper? We are here for you! This workshop is perfect if you want to know what recruiters look at on your CV. Leave a good impression by making sure your CV looks neat and tidy.
Q&A entrepreneurship - Sabrina Putri, Winifred Ereku
Have a conversation and ask all your questions to interesting entrepreneurs! How did they get to where they are now, how do you do that?
It starts here! 👇
Afterwards you will walk out the door with a suitcase full of extra knowledge and interesting valuable network connections that will help you build your dream career!💫
We connect, motivate, inspire and empower you as a talent to seize opportunities and take charge of your own future!💥
What are you waiting for? 👀